2018 Hyundai Ioniq Introduction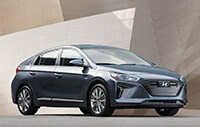 Hyundai Ioniq is a five-door hatchback that comes three ways: Hybrid, full Electric, and for 2018 a new Plug-in Hybrid Electric Vehicle, or PHEV, as they say. The Hybrid and Electric models were introduced as 2017 models. In size and price, Ioniq fits between Hyundai's compact Elantra and midsize Sonata.
Each Ioniq rates high on the environmental-friendliness scale. Estimated at 58 mpg in combined driving, the Ioniq Hybrid ranks as the thriftiest battery/gasoline model on the market. The Electric version can travel up to 124 miles on a single charge.
Unlike many hybrid and electric vehicles, which stand apart visually, Hyundai took the conservative route, with a restrained design that looks like a conventional small car. More fun to drive than some hybrids and electrics, the Ioniq doesn't look peculiar at all.
In Hybrid versions, a 1.6-liter four-cylinder engine works with a single electric motor. Sending power to the front wheels, the electric motor is mounted between the gas engine and a 6-speed dual-clutch automatic transmission.
Rated at 32 kilowatts (43 horsepower), the Hybrid's electric motor contributes to total maximum output of 139 horsepower. Energy that would otherwise be wasted flows into the 1.56-kWh lithium-ion battery pack, positioned under the back seat. At low speeds under light loads, the Hybrid can run on electricity alone. Underway, the electric motor adds torque to the gasoline engine's output.
Although its layout is similar, the Plug-in Hybrid's electric motor develops more power (44.5 kilowatts, or 60 horsepower). When accelerating, the gas engine starts and provides supplementary power. While the 8.9-kWh battery retains a charge, the Ioniq can run up to 27 miles on electricity alone. Paddle shifters are standard.
In addition to adding the Hybrid Plug-in for the 2018 model year, Hyundai has upgraded one of its active-safety features. Active lane control has replaced the previous lane-departure warning. A number of high-tech active-safety features are available. They include forward-collision warning with automatic emergency braking and pedestrian detection, adaptive cruise control, and blind-spot monitoring with rear cross-traffic alert. The 2017 Ioniq earned Good scores on two tests performed by the Insurance Institute for Highway Safety.